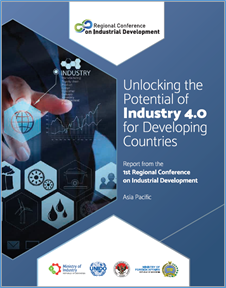 How can countries in Asia and the Pacific unlock the full potential of Industry 4.0? As new technologies are developing quickly, they do not diffuse evenly across countries and industries. "Everyone can contribute, participate and make a difference in this era of innovation." A.M. Fachir, Vice Minister of Foreign Affairs, Republic of Indonesia. However, UNIDO highlights that it is important to implement a comprehensive multi-stakeholder approach that enables a smooth transition towards Industry 4.0 in the Asia and Pacific region.
The new publication from UNIDO titled "Unlocking the Potential of Industry 4.0 for Developing Countries" outlines the challenges and opportunities sparked off by the 4IR in the Asia Pacific region, as well as the role of different stakeholders and the importance of regional cooperation. By focusing on human resource development, innovation and ecosystem building and leveraging multi-stakeholder resources and partnerships, UNIDO is working on the forefront to help developing countries and economies to absorb frontier technologies and to overcome potential challenges. 
The report is the outcome of the first regional conference on industrial development held in Bali, Indonesia in 2018. The conference encouraged knowledge sharing to raise awareness about the challenges and opportunities of Industry 4.0, by promoting best practices, and by identifying good policies and strategies. In the spirit of cooperation, this report draws on the lessons learned by countries in the region that are already implementing their vision of Industry 4.0 through well-thought-of strategies. 
Click here to read the publication.
Contact: Ms. Olga Memedovic (O.Memedovic [at] unido.org)