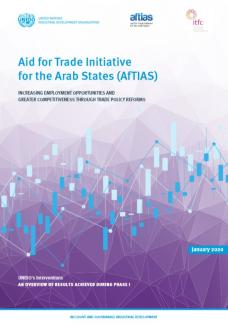 Responding to the growing demand for support to advance economic competitiveness through trade policy reforms in the Arab region, UNIDO department of Trade, Investment and Innovation successfully delivered 7 projects within the Aid for Trade Initiative for the Arab States (AfTIAS) Programme, at both intra-regional and national levels:
Palestine:

Technical twinning in accreditation and mutual recognition

GCC:

Supporting SMEs to participate and benefit from QI services

Sudan:

Developing national quality policy and supporting accreditation

Palestine:

Capacity Building for SMEs

Tunisia:

SMEs upgrading, innovation and export promotion

Libya:

Enhancing export capacities

Iraq:

Upgrading GMO testing capacities to facilitate trade and enhance consumer protection
The interventions undertaken by UNIDO within AfTIAS in the targeted Arab countries will contribute to expanding and enhancing intra-regional trade beyond current levels due to enhanced productive capacities, strengthened quality systems and innovative approaches to modernize the private sector and enterprises.
These encouraging results have been achieved thanks to the efforts and commitment of the International Islamic Trade Finance Corporation (ITFC), the AfTIAS Board and the national partners in Arab. In response to increasing country requests for AfTIAS initiatives, UNIDO will remain highly engaged to promote a more inclusive environment for international trade in the Arab region and create opportunities for employment and growth.
Click here to read the brochure on the results of UNIDO's interventions within AfTIAS.
For more information, please contact: Mr. Rafik Feki (R.Feki [at] unido.org)