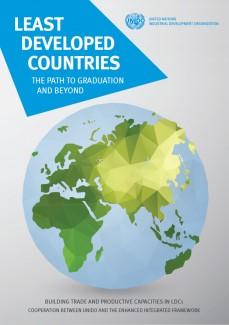 UNIDO is a key partner of the Enhanced Integrated Framework (EIF), a multi-donor programme with the goal of promoting economic growth and sustainable development, through building the trade and productive capacities of least developed countries (LDCs). UNIDO recently launched a brochure to highlight the partnership and the different ways in which it contributes to the EIF. UNIDO has supported more than 26 Diagnostic Trade Integration Studies (DTIS), and as a result has provided customized technical assistance to encourage systematic trade development along value chains, aimed at maximum impact. 
Furthermore, through the Programme for Country Partnership (PCP), such as the PCP Cambodia, UNIDO has been able to help LDCs in their graduation journey, through the expansion and leveraging of partnerships with international partners such as the EIF and other UN agencies, and maximizing impact through the mobilization of public-private investments.
UNIDO has consistently supported LDCs through targeted capacity building activities such as national and regional workshops, monitoring and evaluation trainings, and the strengthening of institutions. Capacity-building also includes e-learning and online learning tools, which are available on UNIDO's Trade, Investment and Innovation (TII) Knowledge Hub. UNIDO and the EIF have partnered to further develop an online training course on Industry 4.0, taking into account the particular context of LDCs.
Click here to read the related press release
Click here to read the brochure
For more information: TII (tii [at] unido.org)