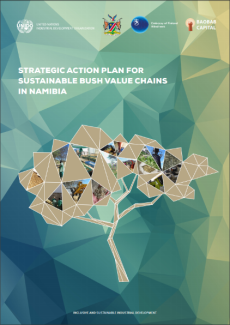 Bush encroachment is a serious problem in Namibia, it hampers agricultural productivity and therewith threatens the livelihood of the local population. Currently, 26-30 million hectares of Namibian rangeland are affected by high densities of Acacia bush that grows at the expense of grass. Under the UNIDO project "Promoting Sustainable Bush-Processing Value Chains in Namibia", a new publication titled "Strategic Action Plan for Sustainable Bush Value Chains in Namibia" was recently launched. The publication provides a pathway to transform invasive bush species into sustainable resource for an emerging agro-sector: it focuses on the economic opportunities arising from the exploitation of encroacher bushes as a raw material with the aim of ensuring food security, animal feed availability together with charcoal production.
The project is currently in the investment phase. Developing market-relevant recipes will require more data on bush species' nutritional values as well as feeding trials, which will contribute to the fine-tuning of the installation. As for charcoal, a relatively modest investment is needed for zero-emission production to meet the regional and global demand. Furthermore, the project extends the research on exploring Arabic Gum processing: relevant impact, risks, and investment opportunities are investigated along with legislative and institutional conditions.
UNIDO together with the Ministry of Industrialization, Trade and SME Development of Namibia, and with the financial support of the Ministry for Foreign Affairs of Finland and Baobab Capital Ltd., plays an integral part in the identification, construction, testing and adaptation of technology solutions for producing these final products based on local bush biomass.
Click here to read the publication.
For more info, contact:  Mr. Farrukh Alimdjanov (F.Alimdjanov [at] unido.org)