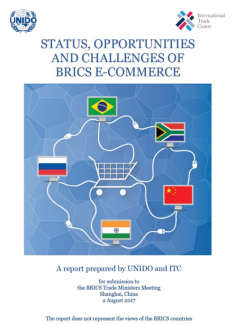 Based on the request of the BRICS Contact Group on Trade and Economic Issues (CGETI), the report on "Status, Opportunities and Challenges of BRICS e-commerce" was prepared jointly by authors from UNIDO, divisions of UNIDO Institute for Capacity Development, and Asia and the Pacific, and ITC. It was published in August 2017.
This report examines business-to-customer (B2C) e-commerce markets in each BRICS country in the context of global e-commerce trends, analysing their growth trajectories, business ecosystems and regulatory frameworks. It identifies key bottlenecks for BRICS to further tap into their e-commerce potential and provides policy recommendations, including streamlining customs procedures, adapting taxation systems, improving infrastructure, strengthening the knowledge and skills of small businesses, and enhancing the cooperation both among the BRICS and internationally.
The report was developed in the frame of the project "Promote the development and co-operation of Small and Medium Enterprises (SMEs) between China and other BRICS countries through E-commerce development", the second phase of which will start on July 2018 under the leadership of TII Department.
For more information find the report here or contact Mr. Raymond Tavares (R.Tavares [at] unido.org)