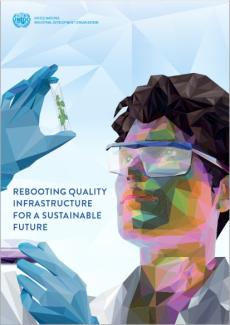 UNIDO launched a new publication entitled, "Rebooting Quality Infrastructure for a Sustainable Future". The publication conveys a call for action for rethinking and adapting QIs to achieve SDGs (Planet, People and Prosperity) and to the impacts of the "Fourth Industrial Revolution (Industry 4.0)", including artificial intelligence, smart manufacturing, smart energy, smart agriculture and the circular economy.
QI development needs to undergo a paradigm shift to adapt to these changes and sustainably and effectively contribute to the achievement of the SDGs. The publication demonstrates through concrete examples and QI success stories from UNIDO and stakeholders worldwide how QI contributes to three key dimensions of the SDGs – People, Prosperity, and Planet, and in doing so, how it can serve the sustainable development paradigm within the framework of a circular economy.
It positions UNIDO as a center of excellence in the area of QI and forward-looking organization identifying the future trends in QI, which is an important tool for improving the lives of populations through economic development. In addition to being a call to action for UNIDO's QI stakeholders, this publication also highlights the good and demand-driven work that UNIDO has delivered worldwide, with regards to QI development at national and regional levels.
Click here to read the related press release.
Click here to read the publication.
For more information, please contact: Ms. Dominika Dor (D.Dor [at] unido.org)