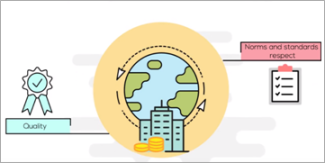 In a globalized world, quality and compliance with market requirements and standards are essential for companies to remain competitive. To access export markets, producers must meet various standards and obtain the required certifications issued by internationally recognized institutions.
As part of the Project for Market Access for agri-food and terroir products (PAMPAT), implemented in Morocco and Tunisia by the United Nations Industrial Development Organization (UNIDO) and funded by the Swiss State Secretariat for Economic Affairs (SECO), 4 value chains have been supported to improve their quality and compliancy to standards between 2013 and 2019. The Moroccan target value chains included the Argan Oil with a Protected Geographical Indication (PGI) and for Tunisia, the Harissa with a Food Quality Label (FQL), the fig of Djebba with a Protected Denomination of Origin (PDO) and the Organic Prickly pear value chain.
Thanks to the technical assistance provided, the producers in the four value chains have increased substantially their compliance to the PGI and PDO code of practices, as well as to the national food safety and hygienic regulations and have considerably improved their market access.
A video describing the results obtained in Morocco and Tunisia can be viewed at https://youtu.be/anh7AnPXI24.
For more info, contact: Mr. Fabio Russo (F.Russo [at] unido.org)