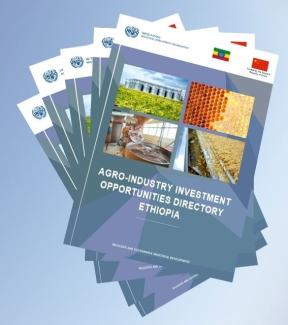 UNIDO has published a new edition of the Agro-Industry Investment Opportunities Directory: Ethiopia. It features summaries of 126 investment opportunities in Ethiopia's agro-industrial sectors. It is intended to be used in various investment promotion activities such as the upcoming 3rd International Agro-Industry Investment Forum.
The publication is the result of collaboration between Ethiopia's Ministry of Trade and Industry and UNIDO, and is financed by the Government of China. It aims to highlight the growing investment potential in Ethiopia, and the preparation of it served to build the Ministry's capacities and that of other partners such as the Ethiopian Investment Centre and the Agricultural Transformation Agency.
The publication includes a detailed investment opportunity profile for each listed company. Interested investors are encouraged to establish contact with UNIDO, which can provide the required links to trained officers of the Ethiopia Investment Commission and the Ministry of Trade and Industry who are ready to provide further investment facilitation services.
The publication was prepared as part of UNIDO's Programme for Country Partnership (PCP) for Ethiopia. It builds on from the International Agro-Industry Investment Forums in 2016 and 2018, prior to which UNIDO carried out investment opportunity profiling work in close cooperation with Ethiopia's investment promotion institutions.
For more information, please contact: Stefan Kratzsch (S.Kratzsch [at] unido.org)
Download the report here.
View the full press release here.