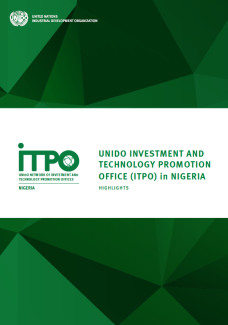 ITPO Nigeria has published their Highlights Report. ITPO Nigeria has had many accomplishments since its establishment in March 2016.
Some highlights include the following:
Coordinating with a large number of institutional partners

Holding consultations with representatives from the private sector and governmental agencies in order to fine-tune ITPO Nigeria's programme for investment and technology promotion for non-oil sectors in Nigeria.

Organizing two technical workshops to introduce UNIDO's methodologies and tools for investment promotion projects

Launching a "Center of Excellence for Financial Appraisal of MSMEs" with NIPC using UNIDO's flagship software, COMFAR Lite.

Providing support to MSMEs and capacity building for the
Third Industrial Development Decade for Africa, specifically through the organization of trainings and workshops to develop business incubation management systems and providing counseling and training services for Nigerian businesses, MSMEs, women and youth.
Congratulations to ITPO Nigeria on the achievements!
For more information, please refer to the report, attached herewith, or contact: Ms. Lucia Cartini (L.Cartini [at] unido.org).