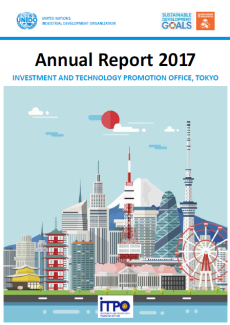 ITPO Japan has published the Annual Report for 2017. ITPO Japan had many achievements in 2017, and had an impressive year in many aspects.
Some highlights include the following:
Hosting 14 delegates and arranging more than 200 business meetings for the delegates

Promoting eight new sound, productive and environmentally friendly Japanese technologies to partners in developing countries

Organizing 42 seminars and exhibitions

Fielding 45 business and technical expert missions through the Advisory Programme for Africa
Congratulations to ITPO Japan on a successful year!
For more information, please refer to the annual report, attached herewith, or contact: Ms. Lucia Cartini (L.Cartini [at] unido.org)