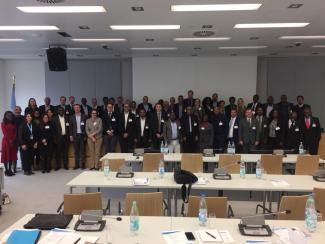 An international business and investment forum on "Mobilizing investment, technology and partnership opportunities for Africa's pharmaceutical industry" gathered some 70 participants at the UN Campus in Bonn from 1 - 2 March 2018.
The forum offered a platform for African pharmaceutical manufacturers, who have been part of a United Nations Industrial Development Organization (UNIDO)-supported mentoring process, to explore partnership opportunities with German pharmaceutical companies and potential investors.
The Forum was hosted by the recently-established UNIDO Investment and Technology Promotion Office (ITPO) in Bonn, Germany, which sets out to promote investments in developing countries and foster collaboration. It formed part of a UNIDO programme – funded largely by Germany – which for more than a decade has sought to foster local pharmaceutical production in developing and least developed countries, notably in sub-Saharan Africa.
For more information see the article here or contact:  Ms. Nadine Vohrer (N.Vohrer [at] unido.org)