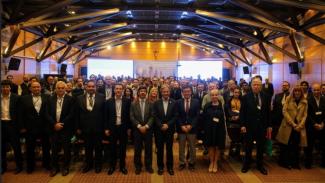 Innovative policies and regulatory frameworks are key to harnessing the potential of Artificial Intelligence (AI) and the Internet of Things (IoT) to revolutionize urban infrastructures and improve the quality of life of people in Latin America. This was a key conclusion of the over 250 participants in the 1st Forum on AI and IoT in Smart Sustainable Cities in Latin America held from 29-30 May.
Organized by the International Telecommunication Union (ITU) and Argentina's Ministry of Modernization, together with the United Nations Industrial Development Organization (UNIDO) and other organizations, the Forum explored the role of new technologies – including high-speed, resilient, low-latency connectivity and technologies such as distributed computing, the IoT, machine learning and AI – in addressing urban challenges and shaping smarter and more sustainable cities.
In the Forum's outcome document – the Buenos Aires Declaration – the participants made a call for action, including the need to raise awareness of the role of AI and IoT in smart city development; to revamp public policies to prepare for an AI future; to promote the production and supply of smart technologies; to encourage public-private collaboration and partnership; to leverage the potential of AI in securing the IoT; to build a platform for sharing best practices and data; and to incorporate AI into public services.
For more information, please read the article here or contact tii [at] unido.org.