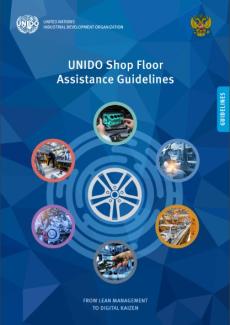 What do SMEs in emerging economies, and countries in transition have to do in order to compete in a global marketplace? They have to significantly improve their approach to manufacturing. UNIDO introduces practically oriented continuous improvement interventions on the shop floor level, through a combination of classical proven Lean methods and Industry 4.0 technologies. 
In its new publication, UNIDO highlights that in addition to efficiency gains, improvements in manufacturing processes should also be align with the greater focus on corporate social responsibility. In order to assist countries in achieving this goal, UNIDO has developed hands-on tools that help companies to increase competitiveness by improving their performance in terms of quality and productivity. The approach presented in this publication is based on tools and instruments of Lean methods that have been successfully implemented by UNIDO projects worldwide. 
The publication is part of UNIDO's technical assistance services that aim to improve the competitiveness of enterprises through clustering and networking, cost reduction and increased productivity. The guidelines outline UNIDO's approach to the Shop Floor Assistance Programme on Lean Management, which was implemented within the UNIDO project "Institutional Strengthening and Policy Support to Upgrade the Component Manufacturers in the Automotive Sector in the Republic of Belarus." Overall, the project allocated economic returns from cutting costs of the project activities of more than USD 9 million and provided assistance to 44 enterprises.
Click here to read the publication.
Contact:  Ms. Olga Memedovic (O.Memedovic [at] unido.org)