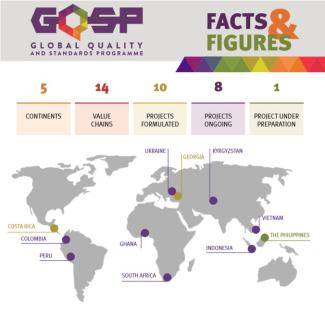 The Global Quality and Standards Programme (GQSP) is an innovative programme that helps small producers to enhance the quality of their products, meet international standards and export right around the world. The programme is currently active in 11 countries, supporting 14 value chains on 5 continents worldwide.
In addition to country interventions, the programme aims at developing global solutions for common challenges through knowledge creation and dissemination. Currently, 11 global knowledge management tools are under development, most of which will be made available on the Trade, Investment and Innovation Knowledge Hub (https://tii.unido.org/).
The GQSP follows a global approach developed by the United Nations Industrial Development Organization (UNIDO) and the Government of Switzerland - through its State Secretariat for Economic Affairs (SECO). The GQSP helps countries set up or improve their Quality Infrastructure Systems. It draws on UNIDO and SECO's valuable expertise, as well as best practice from their long and successful experience of working together.
For more info on the facts and figures, see attached the GQSP factsheet 2020.
Contact: GQSP [at] unido.org ()