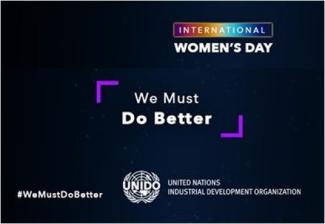 International Women's Day on 8 March every year is a time to reflect on progress made, to call for change and to celebrate acts of courage and determination by ordinary women, who have played an extraordinary role in the history of their countries and communities. Undoubtedly, the world has made unprecedented advances, nevertheless no country has achieved gender equality until 2020, although it is proven that if gender parity in employment were achieved, in some countries GDP could increase by 34%.
Such surprising and somewhat disillusioning facts were shared in a pop quiz by the UNIDO Gender Office during the celebration on the occasion of Women's Day organized by the UNIDO Department of Trade, Investment and Innovation (TII.) Some food for thought was presented by the Gender Focal Points of the Department, in particular flagging the need to apply a gender lens when designing products and services for the greater good in the context of the fourth industrial revolution.
TII is committed to implementing programmes that target gender equality and women's economic empowerment to realize women's rights and build smart economies. UNIDO collaborates with partners across the UN system, the private sector and at the country level to engage men, as well as women, at all levels to help shift the power relations, social norms and gender stereotypes that limit both women and men's prosperity and economic contributions.
For more info, take a look at the publications: Gender equality and empowerment of women,
Mainstreaming Gender in Cluster Development, and Gender & Standards
Watch the IWD 2020 video explaining why #WeMustDoBetter!
Contact: tii [at] unido.org (t)ii [at] unido.org