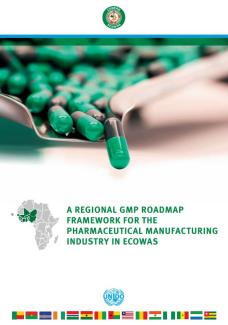 Since early 2017 UNIDO has been collaborating with the West African Health Organization (WAHO) to support the upgrading of the pharmaceutical industry in the ECOWAS region. One key result of this collaboration has been the recent publication entitled A Regional GMP Roadmap Framework for the Pharmaceutical Manufacturing Industry in ECOWAS, available in English, French and Portuguese as well as related country-specific roadmap documents that lay out a risk-based and stepwise approach towards compliance with internationally accepted standards of Good Manufacturing Practices (GMP).
Implementing these tools within the region will be part of a comprehensive programme that UNIDO is currently developing with continuing support from WAHO in order to strengthen the West African pharmaceutical manufacturing industry more broadly. As such, the envisaged initiative will seek to address key bottlenecks for the long-term viability of the sector, with pertinent aspects including access to investment and technology, human resource development, quality infrastructure strengthening and policy incentives that should enable the sector to deliver on the potential for improving access to high-quality and affordable essential medicines while contributing to the economic growth of the ECOWAS region.
The regional framework and national roadmap documents for each ECOWAS Member State can be accessed here.
Click here to read the related press release.
For more info, contact: Mr. Alastair West (A.West [at] unido.org ())