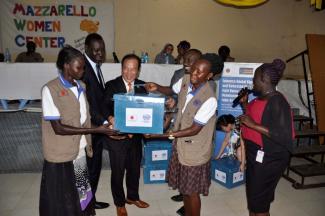 UNIDO is providing training in the field of agro-processing, food safety and entrepreneurship development to women and young internally displaced persons (IDPs) in South Sudan through the project, "Enhancing social stabilization and cohesion through agro value chain development". The project, financed by the Government of Japan, is being implemented together with the Ministry of Trade, Industry, and Eastern African Community Affairs.
In this regard, a graduation ceremony was organized in Juba on the 11th December 2019 in for IDPs and members of their host communities who have completed the training sessions. H. E. Mr. Seiji Okada, Ambassador of Japan, expressed his appreciation of the project and pointed out that it targets vulnerable female IDPs, stating, "the empowerment of women is very important as it will contribute to improving the livelihoods of their children and families, and to developing communities and the country as a whole."
This UNIDO project is being implemented in partnership with the Mazerello Women Promotion Centre, a cooperative sponsored by the Salesian Sisters of Don Bosco.
For more information, please contact:
Toshiyuki Miyake (T.Miyake [at] unido.org)
Akemi Ishikawa (A.Ishikawa [at] unido.org)