United Nations Economic Commission for Africa (UNECA)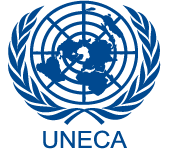 Contact
Capacity Development Division (CDD); African Trade Policy Centre (ATPC); African Institute for Economic Development and Planning (IDEP)
Tel: +251 11 551 7200
E-mail: skaringi [at] uneca.org ()
dluke [at] uneca.org ()
kbounemra [at] unidep.org ()
Established in 1958 by the Economic and Social Council of the United Nations, the Economic Commission for Africa (ECA) has for mandate to promote the economic and social development of its Member States, foster intra-regional cooperation and promote international cooperation for Africa's development.
The Capacity Development Division (CDD) is responsible for orchestrating ECA's trade-related capacity building activities and programmes through facilitating an integrated and coherent approach. It is supported by the African Trade Policy Centre (ATPC), which is primarily in charge of conducting and delivering evidence-based policy research on trade-related issues of interest to African countries, as well as of organizing continental and regional workshops on various aspects of ongoing trade negotiations in the WTO and other forums, and convening sub-regional and regional meetings to build consensus on major trade issues. Whilst CDD focuses on the organizational and institutional levels, the African Institute for Economic Development and Planning (IDEP) is trade-related skills development at the individual level through training and other approaches. ECA is also helping African countries to strengthen or establish trade negotiation units and build their capacity to undertake technical work on trade negotiations. At the same time, ECA continues to undertake short-term technical advisory services and missions to member states and African Regional Economic Communities.
Selected TCB programmes and initiatives in this guide
Partnerships
ECA has major TCB–related partnerships and joint programmes with: the African Union Commission, African Development Bank, the Regional Economic Communities recognized by the African Union, the World Trade Organization (WTO), UNCTAD, ITC, ESCAP, ECLAC, UNDP, UN-DESA, UNODC, Office of the UN High Commissioner for Human Rights (OHCHR). In addition, ECA has recently significantly expanded its network of strategic partnerships, which also comprises Organisation Internationale de la Francophonie (OIF), the Bank for Economic Development in Africa (BADEA), University of Johannesburg, University of Ibadan, Thabo Mbeki African Leadership Institute of the University of South Africa, the Centre for Trade Policy and Law at Carleton University, the Global Trade Analysis Project at Purdue University, Harvard University, the European Law Students' Association, as well as the Pan-African Chamber of Commerce and Industry (PACCI), African Organization for Standardization (ARSO), African Corridor Management Alliance (ACMA), African Alliance for Electronic Commerce (AAEC), Northern Corridor Transit and Transport Coordination Authority (NCTTCA), the Ghana National Chamber of Commerce and Industry (GNCCI), Intergovernmental Standing Committee on Shipping (ISCOS), The Confederation of Indian Industries, the Friedrich Erbert Siftung Foundation, Third World Network (TWN) Africa, Region Refocus amongst others. ECA is hosting the African Trade Policy Centre (ATPC), which is currently receiving support from Global Affairs Canada and the United Kingdom of Great Britain and Northern Ireland's Department for International Development (via the Overseas Development Institute).