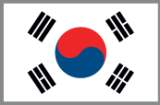 General information on development cooperation
Development Cooperation of Korea is mainly managed by two key ministries: the Ministry of Foreign Affairs and the Ministry of Strategy and Finance. The Ministry of Foreign Affairs (MOFA) is responsible for Korea's aid policy and roughly half of all of Korea's bilateral ODA. This half is implemented through the Korea International Co-operation Agency (KOICA). The Ministry of Strategy and Finance (MOSF) determines Korea's concessional loan policy. This is implemented through the Economic Development Cooperation Fund (EDCF), which was established by the Korean Government in 1987. The operation and management of the EDCF are entrusted to Korea Eximbank (KEXIM). A further around 40 other ministries, agencies and municipalities are involved in providing small amounts of grant aid, mainly in the form of technical cooperation.
In 2015, Korea's net official development assistance, ODA was US$1,915 million, representing 0.14 percent of its GNI. The Government sets explicit targets and has committed to reaching a ratio of 0.20 per cent for ODA/GNI by 2020. Korean development assistance consists predominantly of bilateral aid, which in 2015 made up 80 percent of its ODA, while 20 percent was channeled multilaterally.
Aid for Trade Strategy
Korea does not have an explicit AfT strategy. However, its development projects and technical cooperation include some important elements of AfT, such as: (i) economic infrastructure; (ii) fostering exports, including policy formulation for export promotion; and (iii) building productive capacity. Korea's total AfT commitments in 2015 stood at US$741 million. The table below summarizes Korea's AfT commitments (in US dollars, for selected AfT categories):
Selected ODA components

(Million, Commitment)

2011

2012

2013

2014

2015

Trade Policy Regulations and Trade-related adjustment

7.8

5.5

8.6

9.55

9.2

Economic Infrastructure

602.5

485.1

558.5

805.2

644.8

Building Productive Capacity

152.2

287.3

136.8

252.4

87.1

Total Sector allocable ODA

762.5

777.9

703.9

1,067.15

741.1
Agencies
Principal official agency responsible for TCB assistance to developing countries
Export-Import Bank of Korea – Korea Eximbank (KEXIM)
Contact details
Tel: +82 2 3779 6114
Fax: +82 2 3779 6777
Physical Address
38 Eunhaeng-ro, Yeongdeungpo-gu
Seoul 150-996 Republic of Korea

Description
KEXIM is an official export credit agency providing comprehensive export credit and project finance to support Korean enterprises in conducting business internationally. Since its establishment in 1976, the Bank has endeavored to facilitate the development of the national economy and enhance economic cooperation with foreign countries. Its primary services include export loans, trade finance and guarantee programs structured to meet the needs of its clients in a direct effort to both complement and strengthen their competitiveness in global markets. The bank also provides overseas investment credit, natural resources development credit, import credit, and information services related to business opportunities abroad. It is responsible for the operation of two government funds: the Economic Development Cooperation Fund (EDCF), a Korean ODA program, and the Inter-Korean Cooperation Fund (IKCF), an economic cooperation programme with North Korea.
Other government and official agencies with responsibilities directly relevant to TCB
Invest KOREA (IK)
Contact details
E-mail: ikonline [at] kotra.or.kr
Physical Address
13, Heolleung-ro, Seocho-gu,
Seoul, Republic of Korea
Description
IK, Korea's national investment promotion agency, was established within the Korea Trade-Investment Promotion Agency (KOTRA) with the sole purpose of supporting the entry of foreign business into Korea and its successful establishment there. With assistance extending to comprehensive post establishment services, IK enables foreign corporations to maximize the benefits of the Korean investment environment to ensure their rapid settlement in the country. The agency is committed to providing an unmatched, comprehensive one-stop service that allows foreign investors to join many of the world's most successful corporations which have selected Korea as an investment destination and been rewarded by high returns on their investment. IK has its headquarters in Seoul and has 39 Korea Business Centers located in important centers of commerce around the world.
Invest Korea Plaza (IKP)
Physical Address
Invest Korea Plaza (IKP):
Description
IKP is the first business incubator complex in Korea for foreign investors. As part of efforts to improve the environment for foreign investment in Korea, the former Ministry of Commerce, Industry, and Energy, now the Ministry of Knowledge Economy, devised the master plan for the IKP project.
IKP offers furnished offices, cutting edge conference facilities and on-site comprehensive services, ranging from investment consultation, provided by representatives of Invest KOREA and numerous government agencies and ministries, to orientation programs on Korean business culture and information.
Korea Africa Economic Cooperation Conference (KOAFEC)
Contact details
E-mail: 2016koafec [at] intercom.co.kr
 
Physical Address
38 Eunhaeng-ro, Yeongdeungpo-gu, Seoul, Korea 07242


Description
KOAFEC does not limit itself to being a mere conference. Rather, it is a comprehensive mechanism for the pursuit of a lasting and mutually beneficial partnership between Africa and Korea. As an integrated system equipped with various financial facilities, KOAFEC aims to further the economic development of Africa and Korea by identifying, developing, and financing projects which maximize the two regions' cooperative synergies. KOAFEC began as a one-off ministerial-level policy dialogue between Africa and Korea on Africa-Korea economic cooperation in Seoul, Korea, in April 2006, and has since evolved into a concrete channel for economic cooperation, now holding a ministerial conference every two years. KOAFEC enjoys full support from its co-organizers, the African Development Bank, the Ministry of Strategy and Finance of Korea, and the Export-Import Bank of Korea.
Korea Customs Service (KCS)
Contact details
189, Cheongsa-ro, Seo-gu
Daejeon, Republic of Korea
Description
The Korea Customs Service aims to modernize customs administrations of Korea's partner nations. To this end, it has strived to share its knowledge and experiences with customs authorities of many other countries and enhance their officers' capability to utilize advanced administrative methods since the early 1990s. Since 2009, the KCS has organized training programs for about 2,475 customs officers from the Asia-Pacific, Central Asia, Africa and South America, which were financed through the KCS' budget as well as KOICA. In 2010, the KCS Customs Border Control Training Institute was designated as the Asia-Pacific regional training center of the World Customs Organization (WCO). Since 2011, the KCS has contributed $1.67 million to the World Customs Organization (WCO) annually under the name of the Korean Customs Cooperation Fund (CCF-K). This is aimed at assisting developing countries' efforts to modernize their customs administrations and implement the World Trade Organization (WTO) Trade Facilitation Agreement (TFA), which took effect on February 22, 2017. The KCS will continue to expand and diversify its assistance to build customs officers' capacity in developing countries, with the primary focus on assisting these nations in implementing the WTO TFA.
Korea Fair Trade Commission (KFTC)
Contact details
Tel: +82-44-200-4326
Fax: +82-44-200-4343
E-mail: kftc [at] korea.kr
Physical Address
95 Dasom-3ro, Sejong 30108 Korea
Description
KFTC is a ministerial-level central administrative organization under the authority of the Prime Minister, and also functions as a quasi-judiciary body. The Commission formulates and administers competition policies, and deliberates on, decides, and handles antitrust cases. It performs its roles and duties independently without any intervention from an outside organization. It consists of a Committee, the decision-making body, and a secretariat, a working body. The KFTC is committed to four primary mandates: promoting competition, strengthening consumers' rights, creating a competitive environment for SMEs, and restraining the concentration of economic power.
Korea International Cooperation Agency (KOICA)
Contact details
Tel: +82 31 740 0350
Fax: +82 31 740 0698
 
Physical Address
825 Daewangpangyo-ro, Sujeong-gu
Seongnam-Si, Gyeonggido, 13449, Republic of Korea


Description
KOICA was founded on April 1, 1991, as a government agency responsible for grant aid to support poverty eradication and socio-economic development in developing countries, enhancing international development cooperation as well as strengthening partnerships with developing countries. KOICA's missions are as follows: realization of sustainable socioeconomic development for the enhancement of the quality of life and the eradication of poverty in developing countries; and contribution to global issues related to international development cooperation to harmonize development efforts with those of the international community. Over the last 25 years, KOICA accounted for 42.44% of Korea's bilateral ODA budget and 69.54% of grant aid, asserting its position as Korea's primary grant ODA agency. KOICA utilizes diverse ODA program schemes such as development projects, dispatch of overseas volunteers and experts, capacity development program that is widely known as invitational training. It also cooperates with international organizations to build partnership in development and assists civil society organizations to expand their grass-roots development activities. Consistent with the UN's SDGs, KOICA allocates support to five sectors as follows: education, health, governance, agriculture, forestry & fishery, industry & energy. KOICA has 46 overseas offices and regional representative in 44 partner countries, which play a critical role in implementing its aid programs at the field level.
Korea International Traders Association (KITA)
Physical Address
511, Yeongdongae-ro, Gangnam-gu,
Seoul, Korea
Description
KITA is Korea's foremost trade promotion organization. It aims to support domestic companies in expanding their business on a global scale and to foster partnerships between domestic and overseas enterprises. It is the largest business association in Korea, with 65,000 member firms. Its mission is to promote global trade and shared prosperity and to support Korea's business community through research, training, and the networking of Korean enterprises with the global trade community. KITA works to shape trade policies, both domestically and internationally, to improve conditions for companies that pursue an international trade with Korea. It provides trade-related policy recommendations to Korean and foreign governments and international organizations like the WTO and places particular emphasis on developing and maintaining cooperative relationships with overseas trade pro- motion organizations and major international organizations to facilitate reciprocal trade and investment. Such activities include exchanging trade information and organizing bilateral economic events, such as the Korea/Pacific US States Joint Conference and the Korea-New Zealand Business Roundtable, as well as trade promotion events and joint research.
Korea Research Institute of Standards and Science (KRISS)
Contact details
Tel. +82.42.868.5114
Fax +82.42.868.5252
E-mail: sky0512 [at] kriss.re.kr
Physical Address
267 Gajeong-ro, Yuseong-gu, Daejeon 34113,
Republic of Korea

Description
As the national metrology institute (NMI) of Korea, KRISS is assigned to conduct missions to promote Korea's industrial competitiveness by advancing measurement standards, science, and technologies in ways that enhance the nation's economic performance and secure a better quality of life for all. KRISS provides internationally recognized national measurement standards to its customers in various industries as a means of helping improve the quality and competitiveness of Korean industrial products and exports in global markets
Korea Trade Investment Promotion Agency (KOTRA)
Contact details
Tel : 82-1600-7119
E-mail: digitalkotra [at] kotra.or.kr
Physical Address
13, Heolleung-ro,
Seocho-gu, Seoul, Korea


Description
KOTRA is committed to promoting mutual prosperity between Korea and its trading partners by facilitating international commerce and investment. It's Korea Business Centers worldwide help Korean exporters meet local requirements, and provide personal services to foreign investors considering a location in Korea. KOTRA introduces overseas buyers to the most appropriate business partners in Korea through its wide-ranging inquiry network as well as through business meetings held year round. It provides buyers visiting Korea with assistance in arranging business meetings with Korean companies and collecting information on Korean products and suppliers. KOTRA also dispatches groups of Korean exporters abroad to explore global markets with the help of local Korea Trade Centers.
Korean Intellectual Property Office (KIPO)
Contact details
Tel: +82(42)481 5064/74
Fax : +82(42)472 3459
Physical Address
Dunsan-dong, Seo-gu, Daejeon Metropolitan City 302-701, Korea
Description
KIPO is a governmental authority in charge of intellectual property matters in Korea. Its mission is to help Korea become an advanced country by: (i) providing a legal and institutional administration for the creation and utilization of highly creative, value-added intellectual property; and (ii) promoting technological innovation and industrial development. The main functions of KIPO are: (i) examining and registering intellectual property rights (for patents, utility models, trademarks and industrial designs); (ii) conducting trials on intellectual property disputes; (iii) managing and disseminating information on intellectual property rights; (iv) promoting and raising public awareness of invention activities; (v) promoting international cooperation on intellectual property rights; and (vi) training experts on intellectual property rights.
Other offical and NON-governmental organizations involved
Korea Economic Research Institution (KERI)
Contact details
Tel: 82-2-3771-0001
Fax: 82-2-785-0270/3
E-mail: webmaster [at] keri.org
Physical Address
46 FL, FKI Tower, 24 Yeoui-daero, Yeongdeungpo-gu
Seoul 150-881, Korea

Description
KERI is a think tank whose aim is to contribute to the growth and development not only of Korea but also of the global economy as a whole by establishing and disseminating the principle of a free market economy and corporate growth. KERI provides practical guidance towards the establishment of world management strategies for companies through an analytical and systematic gathering of data on domestic and foreign economies and industrial trends.
Korea NGO Council for Overseas Cooperation (KCOC)
Contact details
Tel: +82-2-2279-1704/5
Fax: +82-2-2279-1719
E-mail: ngokcoc [at] ngokcoc.or.kr
Physical Address
54 Daeheung-ro, Mapo-gu, Seoul
Description
KCOC is an association of 66 development NGOs that implement development and aid projects with the aim of eradicating poverty around the world. In order to facilitate the overseas aid projects of development NGOs, the organization actively promotes a variety of activities, including information sharing among its member organizations, capacity building programmes for NGOs and their workers, research projects on development NGOs, and advocacy.
National Agricultural Cooperative Federation (NACF)
Contact details
Tel: +82-2-3704-1004
E-mail: nacfico [at] nonghyup.com
Physical Address
NACF Headquarters bldg. Saemunan-ro 16, Chung-gu, Seoul, Korea

Description
The NACF is the representative of agricultural cooperatives and NGOs in Korea and liaises with overseas cooperatives and international organizations. International relations provide a window to share information, knowledge, and perspectives on the farm sector and cooperative society. The NACF is a member of such prominent organizations as the ICA, AFMA, APRACA, IFAP and EAOC, and has participated in the meetings and cooperative actions of numerous international bodies at both global and regional levels, including the OECD, WTO, APEC, UN FAO, IFAD and FFTC. The scope of NACF's international cooperation involves not just contacts with overseas cooperatives and organizations but research on the model practices and management of these organizations, and related government agricultural trade strategies.
Selected TCB programmes and initiatives in this guide
TCB cooperation initiatives with UN/international agencies and bilateral partners
Channeling aid through multilateral organizations is one way to manage a rapid increase of aid efficiently. Korea steadily increased its core contributions to the multilateral system in 2015 and it plans to strengthen its support in the future. These increases are in line with its policy of allocating 25 percent of its total ODA to the multilateral channel. In 2015, Korea's multilateral ODA amounted to USD 384.3 million, an increase of 41 percent over 2010 in real terms. Regarding volume, Korea was the 18th largest DAC contributor of multilateral ODA in 2015.
Cooperation with WTO
As part of its AfT contributions, Korea has contributed US$ 350,000 annually to WTO Doha Development Agenda Global Trust Fund (DDA GTF) since 2002, and US$ 1 million to WTO Enhanced Integrated Framework (EIF) for the period of 2016-17 to help developing countries including least developed countries, in particular, to play a more active role in the global trading system. Korea has generic guidelines for its aid including projects/programmes related to AfT and regularly monitors the impact of its aid projects/ programmes. Korea also contributes to the International Trade Centre (ITC).