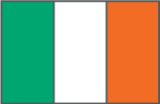 General information on development cooperation
Ireland has had a development cooperation programme since 1974 and it is an integral part of Ireland's foreign policy. The overarching objective of Ireland's development cooperation programme is to reduce poverty and eradicate hunger. The Department of Foreign Affairs and Trade provides foreign and trade promotion advice to the Irish government. Irish Aid, the Development Co-operation Division of the Department, manages the government's development cooperation programme. It also has a coordinating role in relation to overseas official development assistance (ODA) by other government departments, mainly the Department of Agriculture, Food and the Marine and the Department of Finance. Total aid expenditure in 2015 amounted to €648 million (0.36 per cent of gross national product).
Aid for Trade Strategy
Ireland's overseas development policy is rooted in a desire to play an advocacy role in the fight against global poverty and the eradication of hunger. In this respect, Ireland seeks to ensure that global trade is seen as an effective tool in the fight against poverty in developing countries, appreciating fully the powerful impact international trade can play in the promotion of economic development and the alleviation of poverty. Ireland has a particular focus on the least developed countries (LDCs).
Ireland's support for AfT is firmly in line with the EU AfT Strategy and with Ireland's 2013 Policy for International Development One World One Future, both of which have the eradication of poverty and hunger as their primary and overarching objective. Ireland's vision is that developing countries should reform trade policy in line with their broader national development plans. Therefore, as part of its overall support for AfT, Ireland provides support (€1.6 million in 2016) to the LDCs and other most vulnerable countries through the major, mainly Geneva-based, international organizations involved in trade-related technical assistance and trade-related capacity building.
Agencies
Principal official agency responsible for TCB assistance to developing countries
Other government and official agencies with responsibilities directly relevant to TCB
Other offical and NON-governmental organizations involved
Selected TCB programmes and initiatives in this guide
The European Centre for Development Policy Management
TRADE POLICY DEVELOPMENT
LEGAL AND REGULATORY FRAMEWORK
TRADE RELATED FINANCIAL SERVICES
TCB cooperation initiatives with UN/international agencies and bilateral partners
Ireland acts as a member of certain UN/international agencies, participates in governing mechanisms of certain international agencies and supports specific projects of certain UN/international agencies. Financing mechanisms are a mixture of providing core funding to and/or funding specific projects of UN/ international agencies.
Ireland has arrangements with the following international agencies:
Advisory Centre for WTO Law (ACWL); the European Centre for Development Policy Management (ECDPM); the International Trade Centre; World Bank; the WTO; and UNCTAD, in line with UN/WTO accounting and reporting procedures or as out- lined in Memoranda of Understanding with the relevant international agencies.