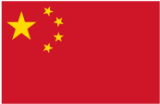 General information on development cooperation
After more than 60 years' practice and exploration under the South-South cooperation framework, China has created a Chinese characteristic foreign aid model. When providing foreign assistance, China adheres to the principles of not imposing any political conditions, not interfering in the internal affairs of the recipient countries and fully respecting their right to independently choosing their own paths and models of development. The basic principles China upholds in providing foreign assistance are mutual respect, equality, keeping promise, mutual benefits and win-win.
The main forms of China's foreign aid including complete projects, goods and materials, technical cooperation and human resources development cooperation, medical teams and volunteers deployment, emergency humanitarian assistance and debt relief.
Over the past 60 years China has provided foreign aid of more than 400 billion RMB to 166 countries and international organizations, with Asia and Africa counties being the main benefiting areas. China sent abroad more than 600,000 foreign aid workers. The Chinese government has helped the recipient countries carrying out more than 5,000 of foreign aid programs, of which nearly 3,000 are complete projects, and conducted more than 11,000 training courses, accomplishing the training of over 260,000 personnel.
In the future, China will continue to provide assistance to other developing countries under the South-South cooperation framework at its best endeavor, supporting and assisting other developing countries in fulfilling United Nations' 2030 Agenda for Sustainable Development, so that more developing countries can be benefited and become prosperous.
Aid for Trade Strategy
In recent years, China keeps an active response to the World Trade Organization (WTO) "Aid-for-trade" initiative by continually assisting developing countries, especially the least developed countries, in strengthening infrastructure construction, enhancing personnel training, improving production capacity, and promoting trade facilitation level, so as to improving their participation in international trade.
In September 2015, at the 70th Anniversary Summit of the United Nations, President Xi Jinping announced a series of foreign aid measures including providing 100 aid-for-trade programs for other developing countries in the next 5 years. In December 2015, during the Johannesburg Summit of Forum on China-Africa Cooperation, President Xi Jinping put forward the China-Africa Trade and Investment Facilitation Cooperation Plan, according to which China will implement 50 aid-for-trade programs to help African countries improve their capacity and infrastructure for internal and external trade and investment.
China honored and fully implemented the above-mentioned foreign aid commitments, China has carried out more than 30 aid-for-trade projects in 2016, ranging from the improvement of traffic and port facilities, customs inspection equipment supply to technical assistance. At the same time China has trained more than 3,000 personnel for over 40 countries. Those measures have effectively improved the recipients' trade transportation and customs inspection capacity, enhanced their trade facilitation conditions and further expanded their interconnection with other areas. They also helped the recipient to develop relevant industries and strengthened their trade capacity.
Future Plan
In the future, China will continue to earnestly implement its aid-for-trade programs, steadily increasing its effort in providing trade related assistance under the South-South cooperation framework, while taking into account the recipients' practical needs. Through technical cooperation, infrastructure construction, personnel training, material supplies, China aims at helping recipient countries promote trade facilitation in a variety of ways, facilitating the recipients' effective participation in the global value chain, improving the global welfare, and facilitating the implementation of the 2030 Agenda for Sustainable Development.
Selected TCB programmes and initiatives in this guide
Not listed in any categories