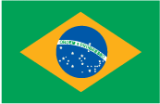 General information on development cooperation
Foreign policy is the main driver of Brazilian South–South cooperation and it has shaped the focus and geographical position of technical cooperation. Brazil has worked efficiently and proactively in the development of an international development agenda and increased its participation in international organizations seeking to propose and negotiate changes in the rules of global governance. In this context, the country has proposed measures for improved governance on financial flows, fairer global trade rules for poor countries and increased participation of developing countries in international organizations, particularly in the UN System, Bretton Woods institutions, the World Trade Organization (WTO) and institutions responsible for negotiating and setting monitoring standards and rules and managing the risks of national and international financial institutions. Furthermore, Brazil has increased its participation in various cooperation actions with developing countries, especially in South America, Central America, and Africa. In the South–South technical cooperation Brazil participates focusing on capacity development in partner countries through mobilization of a large number of Brazilian domestic institutions both from the public and private sectors in areas considered the most relevant to the partner countries. This cooperation has been developed under South-South cooperation principles as included in the "Nairobi Outcome Document of the High-Level United Nations Conference on South-South Cooperation" (Resolution GA/64/222). 
The good results achieved by Brazil's horizontal cooperation may be accredited to flexibility and versatility, characteristics that stem from Brazil's distinct profile as a country that is still establishing enduring values within its society. The approach adopted by Brazilian South–South cooperation focuses on structural impact projects to promote the strengthening of institutional capacity for the formulation and implementation of strategies that are linked to long-term policies and targeted at the fundamental causes of poverty and hunger. Brazilian South–South cooperation focuses mostly on agriculture and food security, education, professional training, and health. Brazil believes that the South-South cooperation is an effective mechanism for sharing information, experiences, and practices developed by both sides under similar socio-economic realities, enabling mutual enrichment of their respective domestic knowledge basis.
Brazil regards the multilateral trading system as the priority of its foreign trade policy, as it is one of the main pillars of the establishment of a fair and balanced global economic system that can foster welfare and mitigate poverty worldwide.
Technical cooperation among the members of the Common Market of the South (Mercosur) favours the exchange of knowledge and serves as a stimulus for the development of new techniques more suitable to the needs of the economic bloc. It also helps to promote the basic goals of Mercosur, since it fosters innovation, diversifies the offer of goods and services and facilitates the adoption of common procedures and quality standards. Thus, in Mercosur, technical cooperation is a mean to facilitate the circulation of goods, people, and services, resulting in a more solid socio-economic integration.
Aid for Trade Strategy
Brazil's Aid for Trade (AfT) strategy is largely concentrated in the following categories: Trade Policy Analysis, Negotiations, Implementation, Supply Capacity Competitiveness, Trade Facilitation, Development of Infrastructure and Biofuel Production, mostly in Africa.
Brazilian assistance is focused on two central areas: (i) social policies and working conditions, and (ii) economic sectors, such as agriculture, fishing, infrastructure, energy, mining, training, science and technology and industrial capacity.
In its geographic neighborhood, Brazil finances infrastructure projects with a view to promoting regional integration and helping reduce transport costs for landlocked countries.
Brazil also provides capacity-building in trade-related areas, such as:
Trade barriers

Trade negotiations: the "Investor's Legal Guide", a publication of the Investment Division of the Commercial Promotion Department in the Brazilian Ministry of External Relations, synthesizes information regarding the business environment and the legal and regulatory framework

Legal framework: Support to Strengthening the Economic Integration and Sustainable Development of Mercosur (ECONORMAS)

Standards

Sanitary and phytosanitary (SPS) measures: Harmonization of veterinary and phytosanitary norms and procedures, food security and farming production

Business support services:

Institutional Strengthening of the Port Sector in Benin (Pilot project)

Institutional Strengthening of Professional and Technological Education in Benin in the Areas of Agro-Ecology and Cooperativism

Support to the Development of the Culture of Rice in Senegal

The "Cotton-4 Project", which increases the competitiveness of the productive chain of cotton in Benin, Burkina Faso, Chad, and Mali

Support to the Mercosur Information Society

Support to the Deepening of the Audiovisual and Cinematographic Integration Process of Mercosur

Banking

Market regulation
Agencies
Principal official agency responsible for TCB assistance to developing countries
Ministry of Foreign Affairs
Physical Address
SAF Sul, Quadra 2, Lote 2, Bloco B, Ed. Via Office, 4th Floor,
Brasilia, DF, 70070-600 Brazil

Description
Brazilian Agency for Cooperation (ABC), under the Ministry of Foreign Affairs, in charge of technical cooperation and humanitarian assistance. The current portfolio of South–South cooperation in the Agency comprises almost 200 hundred projects and activities, implemented in more than 40 developing countries.
Between 2005 and 2013 the official Brazilian expenditure on development cooperation amounted to US$ 4,146 billion (Institute of Applied Economic Research, IPEA, 2016). Of the total, US$ 2,230 billion was contributed to international organizations and US$ 294.9 million to technical assistance. The technical assistance (TA) budget rose from US$11.4 million in 2005 to US$ 31.8 million in 2013.
Other offical and NON-governmental organizations involved
TCB cooperation initiatives with UN/international agencies and bilateral partners
Description
The Brazilian Government adopts the concept of "Trilateral cooperation" rather than "Triangular cooperation" to stress the horizontality between the three (or more) partners. Trilateral cooperation provides a space for development cooperation actors to coordinate efforts and optimize technical and financial resources, resulting in projects with more impact. Brazil has increased its trilateral partnerships both with developed countries such as Japan, Germany and the US, and with multilateral agencies, such as the United Nations Development Programme (UNDP), Food and Agricultural Organization (FAO), World Food Programme (WFP), United Nations Population Fund (UNFPA), International Labour Organization (ILO) and other international organizations. The majority of trilateral projects are funded by Brazil.
Selected TCB programmes and initiatives in this guide